The period of isolation that we have been through since March changed many realities and the academic one was not left out. The Secretariat of Extension, Scientific Culture and Wellbeing (SECCB) of the School of Exact and Natural Sciences established a contact with the scholarship holders to find out the particular needs that arose from this course. Many of the students did not have the appropriate devices to deal with it, and an assistance operation was organized by the Faculty to reach them.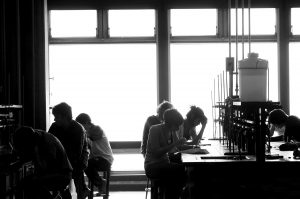 The consequences of the pandemic are many and affect our daily realities in various ways. This also happened to Exactas students for whom the transfer to the virtual course modality implied a significant challenge given that in some cases they did not have adequate technology (absence or precariousness of digital devices and / or insufficient internet connectivity) and / or they have serious limitations in their housing conditions to sustain a semester with these characteristics.
From the FCEN, the Sadosky fellows were consulted to determine which specific problems were arising and this was also extended to a larger population of students through a virtual modality survey, the preliminary report of which can be found at this link. These results motorized an operation of the secretariat of Extension, Scientific Culture and Welfare (SECCB) in collaboration with the Information Technology Unit of the Faculty to condition supplies and be delivered as loans to those who need them. Work was done on existing equipment, several of them contributed by the Computer Department, the Specialization Course in Data Exploration and the Department of Mathematics. Of course, financial support was also necessary, FUNDACEN participated with a booster bonus for improvements in connectivity, updating and repairing equipment, and incorporating devices.
The Sadosky Scholarships
This scholarship program for undergraduate students of all majors of the School of Exact and Natural Sciences of the University of Buenos Aires (FCEN-UBA), provides financial aid and tutoring to students who need it. The program was created by the FCEN Board of Directors in 2004 and is currently chaired by the FCEN Secretariat for Extension, Scientific Culture and Welfare (SECCB).
The Sadosky Scholarships operate thanks to basic funds provided by the FCEN. But in each call there are more students who deserve and need it and are not covered. That is why since 2009, the Foundation collaborates financially with the scholarships, currently financing 6 scholarships per year. These additional scholarships are made possible by donations from graduates and the community at large.
How to collaborate?
DEBIT / CREDIT CARD: by clicking on this link at DonarOnline.org.
BANK TRANSFER: in this link you will find the necessary information.
FROM ABROAD: by clicking on this HelpArgentina link you will be able to make your donation through different means and have the possibility of making a tax deduction for the USA.