Researchers together with personnel developed reusable and very resistant protection masks that are produced in the Prototyping, Precision Machining and 3D Printing Workshop in the Physics Department (DF). The masks are given as donations to different CABA health centers.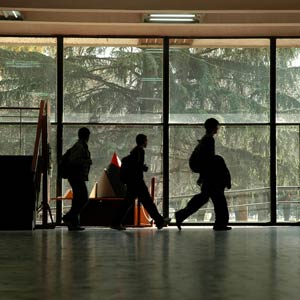 There are several projects that were launched in the context of the pandemic aimed at contributing to caring for people. From the Physics department of the Faculty of Exact and Natural Sciences of the UBA, resistant protection masks with possibilities of being reused began to be produced to donate to different health centers in the City of Buenos Aires.
The idea came from the call of a doctor from the Gutiérrez Hospital who, as her daughter is a student at the Faculty, knew that they had 3D printers and specialized personnel to manipulate them. "She asked us promptly if we could help them reinforce the security elements for the hospital staff. Then we found out that the lack of protection elements in health centers was widespread, "says Ana Amador, Exactas teacher and coordinator of the Exactas Physics Department machining workshop with Pablo Cobelli.
Building from scratch is an especially complex challenge in this context where buying and moving the necessary materials is difficult, the model that is produced has several advantages: it has already been tested in Europe and the United States, it is very robust, reusable and has a longer useful life. to the others in the market. Today approximately six masks are manufactured per day and so far 104 masks have been distributed to Roffo, Gutiérrez, Clinicas and Elizalde Hospitals, but production could increase.
 "Thank you very much to the Physics Department! Protective masks are very versatile and lightweight. They make our job safer. "Dr. Ruth M Faifman, MN 76263 (Dr. R. Gutierrez Children's Hospital Endoscopy Service)
How to collaborate?
From FUNDACEN, donations aimed at obtaining supplies and keeping a machine that prints 24 hours a day are transported and thus, help more hospitals and health centers have the appropriate protection tools to fulfill their task in this complex situation: You can donate from $ 200 entering this link or clicking DONATE.